A Propriedade das terras na Palestina no final do Mandato Britânico - 1946 a 1948
Um fato importante a se considerar em relação ao plano de partição da Palestina, adotado pela Assembléia Geral da ONU em 29 de novembro de 1947, se refere à propriedade das terras no período imediatamente anterior.
De acordo com o
"Survey of Palestine"
, publicado em 1946 pelo Comitê Anglo-Americano independente, temos a seguinte divisão de terras:
8,6 % --> propriedade de judeus
28,6 % --> propriedade de árabes. Obs: se retirarmos as áreas de pastagens beduínas ( 8,4% ) e terras desertificadas ( 13,4% ) , o total de terras de propriedade árabe passaria para 6,8 %. Segundo as leis agrárias britânicas e turcas as pastagens beduínas e as terras desertificadas não podiam ser legalmente adquiridas.
62,8% --> propriedade do Estado
Outra fonte importante que confirma os dados acima (com alguma variação dos percentuais) vêm de um artigo do site
MidEastWeb
. Este site possui uma visão balanceada dos fatos, visões e notícias do Oriente Médio. Segundo ele (tradução minha em português, negrito meu): "Uma comissão de inquérito anglo-americana em 1945 e 1946 examinou o status da Palestina. Nenhum censo oficial estava disponível, já que nenhum censo foi conduzido na Palestina em 1940, portanto seus dados foram baseados em extrapolações e suposições. De acordo com o relatório, no final de 1946, em torno de 1.220.000 árabes e 608.000 judeus residiam nas fronteiras da Palestina do Mandato britânico. Os judeus compraram de 6 a 8 por cento da área total da Palestina. Este total correspondia a 20% da terra que poderia ser cultivada e residida. Em torno de 46 por cento da terra estava registrada em nome de vilas árabes, árabes vivendo na Palestina ou proprietários não residentes na Palestina. E mais ou menos o mesmo percentual (em torno de 46 %) era terra do governo.
Porém, muitas dessas terras árabes não eram de propriedade privada. Os árabes da Palestina receberam muitas de suas terras na forma de aluguel condicional desde que as cultivassem ou as usassem como propriedades comunais de vilas
."
O texto original em inglês:
"An Anglo-American commission of inquiry in 1945 and 1946 examined the status of Palestine. No official census figures were available, as no census had been conducted in Palestine in 1940, so all their surmises and figures are based on extrapolations and surmises. According to the report, at the end of 1946, About 1,220,000 Arabs and 608,000 Jews resided within the borders of Mandate Palestine. Jews had purchased 6 to 8 percent of the total land area of Palestine. This was about 20% of the land that could be settled and cultivated. About 46% of the land was registered in the tax registers to Arab villages, to Arabs living on the land, or absentee owners, and about the same amount was government land.
However, most of this land was not privately owned. The Arabs of Palestine had received much of their land in leases conditional upon cultivation or used land that was part of village commons.
"
E, para finalizar, uma fonte imparcial (aliás, nem sempre, pois a ONU costuma ser extremamente pró-palestinos e pró-árabes devido à força política e econômica do petróleo). Os dados foram obtidos do livro de Michael Fishbach, chamado "Records of Dispossession: Palestinian Refugee Property and The Arab-Israeli Conflict". De acordo com Fishbach, a UNCCP (United Nations Conciliation Comission for Palestine) fez uma detalhada pesquisa concluída no ano de 2000 acerca do escopo de terras de propriedade árabe em 1948 e chegou ao valor de 4.851.613,978 dunums (medida de área do período otomano e que corresponde a 1000 metros quadrados). Lembramos que, de acordo com Kenneth Stein no livro "The Land Question in Palestine",
a área total da Palestina gira em torno de 26.300.000 de dununs
. Podemos então confirmar,
embasados nos dados das Nações Unidas, que os árabes em 1948 possuíam como propriedade um pouco menos de 20 por cento da área total da Palestina
.
Portanto,
fica claro que a grande maioria das terras da Palestina era de propriedade do Estado.
É um mito a informação que aparece em muitos sites palestinos (vide
um exemplo
) declarando que mais de 90% das terras da Palestina pertenciam aos palestinos. É fácil notar como é possível mascarar os fatos olhando claramente para o mapa da página colocada no site palestino e que está reproduzido abaixo.
As terras judaicas são colocadas em uma cor e na outra cor é colocada a seguinte informação: "Palestinian and Publicy Owned Land", isto é, terras Palestinas
e
públicas. Juntar os dados das terras públicas com as terras árabes dá a impressão de que o plano de partição foi injusto, o que não é verdade.
É importante lembrar que o
mandato da Palestina
da Liga da Nações, dado ao Império Britânico e aprovado em julho de 1922, dava como tarefa aos britânicos os seguintes artigos cruciais:
"- ARTICLE 2. The Mandatory shall be responsible for placing the country under such political, administrative and economic conditions as will secure the establishment of the Jewish national home, as laid down in the preamble, and the development of self­governing institutions, and also for safeguarding the civil and religious rights of all the inhabitants of Palestine, irrespective of race and religion."
"- ARTICLE 6. The Administration of Palestine, while ensuring that the rights and position of other sections of the population are not prejudiced, shall facilitate Jewish immigration under suitable conditions and shall encourage, in co­operation with the Jewish agency referred to in Article 4, close settlement by Jews on the land, including State lands and waste lands not required for public purposes."
Portanto, o Mandato da Liga das Nações definia claramente o propósito de assentar a imigração judaica em terras públicas e improdutivas, bem como assegurar o estabelecimento de um Lar Nacional Judaico.
Esse site de exemplo palestino, portanto, busca levianamente distorcer os dados históricos levantados pelo comitê independente. Seu claro intuito é o de propagandear o mito de que as terras palestinas teriam sido roubadas pelos sionistas. Partes dessas propriedades do Estado, de acordo com a resolução da ONU, passaram do Poder Mandatário britânico para seu regime sucessor legal: Israel.
Analisando o mapa abaixo, pode-se ainda notar que grande parte dessas propriedades alocadas ao novo Estado Judeu estavam no deserto do Negev. Aproximadamente 60 % das terras do novo Estado judeu eram formadas por desertos enquanto o novo Estado Árabe recebeu a maior parte das terras cultiváveis.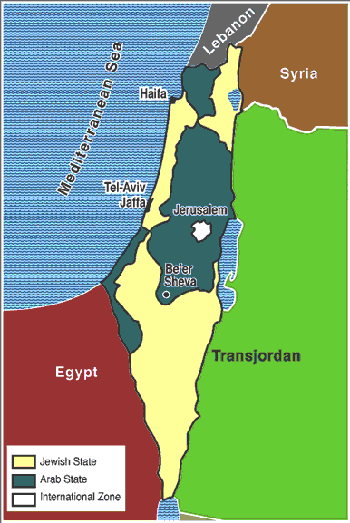 Fontes pesquisadas:

Aumman, Moshe - "Land Ownership in Palestine, 1880-1948" in Michael Curtis, et al., The Palestinians, p. 29

Avneri, Arieh - The Claim of Dispossession, p. 252

Bard, Mitchell - Myths and Facts Online: Partition

Council of the League of Nations - The Palestine Mandate
Katz, Samuel - Battleground: Fact & Fantasy in Palestine, pp. 268-269

Fishbach, Michael - Records of Dispossession: Palestinian Refugee Property and The Arab-Israeli Conflict

Government of Palestine - A survey of Palestine: Prepared in December 1945 and January 1946 for the information of the Anglo-American committee of inquiry, p. 257
MidEastWeb - Population of Ottoman and Mandate Palestine - Statistical and Demographic Considerations
Safian, Alexander - Can Arabs Buy Land in Israel?
Safian, Alexander - Land, the Palestinian Authority, and Israel
Stein, Kenneth - The Land Question in Palestine, 1917-1939
Tilsen, Jon-Jay, Ottoman Land Registration Law as a Contributing Factor in the Israeli-Arab Conflict
United Nations A/35/643 - Letter dated 17 November 1980 from the Permanent Representative of Israel to the United Nations addressed to the Secretary-General